Map of Cairns
Weather and Climate
Far North Queensland enjoys a tropical climate, but the period from May to October is considered the dry season, heralding mild temperatures. Around the Cairns area, seawater temperatures are a comfortable 23°C (73°F), and on a sunny day you can generally stay in the water all day.
Despite milder temperatures, on clear days you can begin to burn in less than 20 minutes. To protect yourself from the sun, you should always wear a shirt, hat and sunscreen, and where possible stay in the shade.
Mean Weather Conditions for Cairns in June
| | |
| --- | --- |
| Maximum | 25.9°C (78.6°F) |
| Minimum | 17.3°C (63.1°F) |
| 9am Humidity | 78% |
| 3pm Humidity | 68% |
Swimming

Swimming in Far North Queensland is great at all times of the year, but you will need to take care in the water. Box jellyfish and dangerous surf pose a real threat, however the majority of beaches are signed to indicate any dangers that may be present. Always swim on patrolled beaches and those with protective stinger nets.
Simple Guidelines to Safe Swimming
Surf lifesavers supervise swimmers at the beach – always follow their advice.
Safe, supervised locations are designated by red and yellow flags.
If unsure about your ability to handle the sea conditions, do not swim.
Do not swim when under the influence of alcohol.
Do not swim at night.
Passports, Visas, and Customs
All travellers to Australia need a valid passport.
Visas are required by all visitors travelling to Australia except for New Zealand passport holders.
We advise all international travellers to consult the link below or contact the Australian Consulate in your country to organise the visa that best suits your travel plans.
Visa Information at the Department of Immigration and Citizenship
Depending on the country of issue of your passport, you may be eligable to apply for an eVisitor or ETA via the internet. Please see the following link for more information.
Online Applications at the Department of Immigration and Citizenship
It is also important to note that Australia is an island of immense ecological diversity and takes customs very seriously. To protect its natural ecosystems and agriculture interests, Australia employs strict customs regulations. Organic items such as plants, food, animal products, timber and anything contaminated with dirt or sand may be restricted or even prohibited. Before you set out to Australia it may be useful to check up on these restrictions at the link below.
Customs Information at the Australian Customs and Border Protection Service
If you require a Letter of Invitation for the conference, please complete the form located here.
Transportation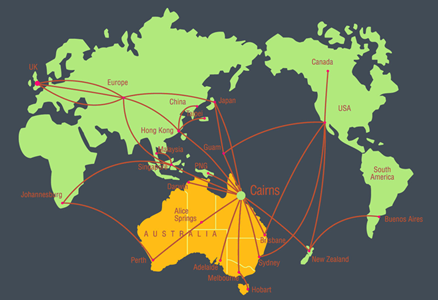 Cairns Airport is an international airport in Queensland, Australia receiving international flights from Tokyo, Osaka, Hong Kong, Singapore, Guam and Auckland. Cairns can also be easily accessed from Australia's main international hubs including Sydney, Melbourne and Brisbane.
There are many options from the airport to your accommodation. Taxis often work out the easiest and cheapest especially when more than one occupant shares the vehicle. The cost of a standard four-seat taxi (one-way) to the Cairns Esplanade from the airport is around AUD$17.
There are several shuttle bus companies that operate out of the Cairns airport and these are easily located around the airport.
Car hire is also available and many operators have offices situated within the Airport. Australians drive on the left and a chant of "driver in the middle" usually helps.
Medical Services
Australia medical services rate amongst some of the highest in the world. Overseas vistors should take care to obtain their own medical travel insurance to ensure that they are covered in an emergency. Visitors from the UK, Italy, Malta, Finland, the Netherlands, Sweden and New Zealand are entitled to subsidised medical care under reciprocal national health care agreements.
Other Useful Information
Taxes
Most goods and services are taxed in Australia using a value-added tax of 10%, called the GST. The tax amount is normally included in the displayed price – what you see is what you pay.
Tipping
Tipping is rarely expected in Australia. Exceptional service can be rewarded by rounding up.
Smoking Restrictions
It is important to note that Queensland law restricts smoking in a number of public areas. Smoking is prohibited at restraunts and in any licensed bar or club where drinks or food are consumed, either indoors or out, as well as within 4m of non-residential entrances. Be aware that on-the-spot fines of AUD$150 apply for any breaches. To avoid any hassles, when in doubt ask.
Electrical Appliances
Australia's mains electricity operates at 240V with a 50Hz AC signal. A three-bladed plug is used for most devices, however some double-insulated devices don't have the bottom, earth blade. All powerpoints have three holes, and almost always have a switch for each socket.
| | | |
| --- | --- | --- |
| A typical powerpoint. | A typical three-bladed plug. | A typical two-bladed plug (no earth blade). |