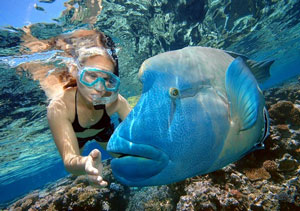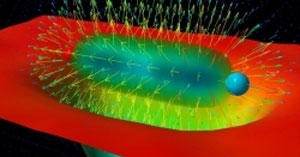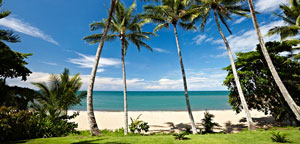 Registration and reception will be held on the evening of Sunday the 24th of June at 5:00pm at the Cairns Convention Centre. The conference starts in the morning of Monday the 25th of June and ends late in the afternoon of Friday the 29th of June.
The program will include plenary talks, parallel talks and a poster session on the following topics:
Algorithms and machines
Applications beyond QCD
Chiral symmetry
Hadron spectroscopy and interactions
Hadron structure
Nonzero temperature and density
Standard model parameters and renormalization
Theoretical developments
Vacuum structure and confinement
Weak decays and matrix elements
Registration and abstract submission are now open on this conference web site.
Hotel reservations will be done directly with the hotel of your choice. This web site provides information and links to nearby hotels offering special rates for the conference delegates of Lattice 2012. For more information, please visit the accommodation page.
The first 50 students to register will be guaranteed a reduced early-bird conference registration fee. Further information is here.
We have also secured a very attractive budget accommodation rate with Gilligan's Backpackers Hotel & Resort. Further information is available here.
If you need to contact us please email the Conference Secretariat Sharon Johnson or Silvana Santucci via the e-mail address cssm@adelaide.edu.au.
Deadlines
Early Bird Registration deadline is

Friday April 20, 2012

.
The

first 50 students

will be guaranteed a discounted Early Bird rate of AUD$400. Students registering after the Early Bird deadline will be charged a registration fee of AUD$600.
Accommodation deadline is

Wednesday April 25, 2012

.
Abstract Submission deadline is

Sunday May 20, 2012

.
Information for Presenters
General Information for Plenary and Parallel Talk Presenters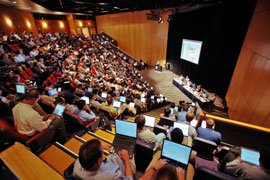 Laptops and projectors will be provided in the plenary and parallel session rooms.
PDF format or Powerpoint format is acceptable.
In the case where you would like to use animations, it would be best to use your own laptop for the presentation.
Information for Poster Presenters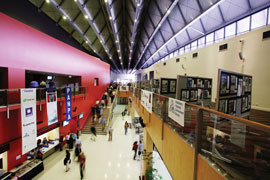 You must print out your poster BEFORE leaving for the conference and bring it with you. Printing facilities at the conference are extremely limited.
Maximum poster size is A0 (1189 × 841 mm / 46.8 × 33.1 in) to ensure that the poster fits on the poster stands.
The area for the poster session will be open Monday afternoon and Tuesday if you want to put your poster up early. It is recommended that you do so as early as possible to avoid a rush of people immediately before the start of the poster session.
Each poster will be assigned a number and you are expected to tack your poster to the board with the corresponding number. This is to ensure that the map for the poster session, which comes in the registration packets, will match the number of your poster and people can then easily find the posters they want to look at.
The poster session is 2 hours long. For those of you that receive odd numbers you should be at your posters for discussion during the first hour, while those receiving even numbers should stand next to their posters during the second hour. This way everyone has time to see the other posters and be found by other attendees for discussion.
Following the poster session, feel free to leave your poster up for people to look at on Wednesday. However, all posters must be taken down by Wednesday night as removal of the poster boards will be early Thursday morning.
Organising Committees
Local Organising Committee
Derek Leinweber (chair), Waseem Kamleh, Selim Mahbub, Hrayr Matevosyan,
Anthony Thomas, Anthony Williams, Ross Young, James Zanotti
International Advisory Committee
| | |
| --- | --- |
| James Hetrick | University of the Pacific, USA |
| Chris Allton | Swansea University, UK |
| Konstantinos Anagnostopoulos | National Technical University of Athens, Greece |
| Sinya Aoki | University of Tsukuba, Japan |
| Norman Christ | Columbia University, USA |
| Philippe de Forcrand | ETHZ, Switzerland |
| Luigi Del Debbio | University of Edinburgh, UK |
| Will Detmold | College of William & Mary, USA |
| George Fleming | Yale University, USA |
| Margarita Garcia Perez | IFT UAM-CSIC, Spain |
| Anna Hasenfratz | University of Colorado, Boulder, USA |
| Shoji Hashimoto | KEK, Japan |
| Karl Jansen | NIC, DESY, Germany |
| Tony Kennedy | University of Edinburgh, UK |
| Andreas Kronfeld | Fermilab, USA |
| David Lin | National Chiao Tung University, Taiwan |
| Nilmani Mathur | Tata Institute of Fundamental Research, India |
| Harvey Meyer | Johannes Gutenberg-Universität Mainz, Germany |
| Tetsuya Onogi | Osaka University, Japan |
| David Richards | Jefferson Lab, USA |
| Giancarlo Rossi | University and INFN of Rome Tor Vergata, Italy |
| Sinead Ryan | Trinity College Dublin, Ireland |
| Stephen Sharpe | University of Washington, USA |
| Junko Shigemitsu | Ohio State University, USA |
| Frank Wilczek | Massachusetts Institute of Technology, USA |
| Hartmut Wittig | Johannes Gutenberg-Universität Mainz, Germany |
Ken Wilson Lattice Subcommittee
Andreas Kronfeld
Norman Christ
Philippe de Forcrand
Karl Jansen
Derek Leinweber
Junko Shigemitsu
Pavlos Vranas
Hartmut Wittig
The report of the subcommittee can be found here.
Conference Secretariat
Sharon Johnson
Silvana Santucci
E-mail: cssm@adelaide.edu.au
Webmasters
Benjamin Owen
Ben Menadue