General Information
We have collected some general information that may be of use to Delegates and Accompanying Persons to the 14th National Congress of the Australian Institute of Physics.
---
The Congress will be held in Adelaide, capital city of South Australia, at the University of Adelaide situated on North Terrace in the heart of Adelaide's business, commercial and entertainment district. A taxi fare is approximately AUD$15 from Adelaide Airport and travelling time by care is approximately 20 minutes.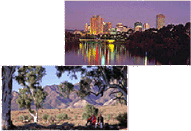 Adelaide is situated between the Mt Lofty Ranges to the east and Gulf St Vincent on the west. The metropolitan area has about 1 million inhabitants and is situated close to a wide variety of facilities and attractions. South Australia produces the majority of Australian wines and there are several wine producing areas within ½-1½ hours drive of the city centre, including the Barossa Valley, McLaren Vale and Adelaide Hills regions. Two outstanding wildlife sanctuaries, Cleland and Warrawong are also easily accessible from the city. To the north the rugged Flinders Ranges provide an introduction to the Outback. A visit to Kangaroo Island, south of Adelaide, gives an opportunity to view the unique Australian flora and fauna in an unspoiled environment. Further information about South Australia and Adelaide and their attractions may be found at SA Tourism Office website.

Adelaide's square-mile city center is surrounded by parklands. The compact nature of the city means that all facilities are within easy walking distance of hotels. There is good public transport, including free bus services covering two routes around the city center.
The climate is Mediterranean in style and the weather in early December is expected to be pleasant, with mean maxima and minima of about 26ºC and 15ºC, respectively. The chance of rain is slight. You may also view some Images of the City.
Conferences will be held at various lecture theatres on the University of Adelaide grounds with the main plenary sessions to be held on Bonython Hall (L11).

The University of Adelaide is situated in the city center. A wide range of facilities, such as banking and post office, are located on campus. The University is located immediately adjacent to the main shopping precinct and to the Art Gallery of South Australia, The South Australian Museum and the Migration Museum. Many different restaurants and eating places, covering a wide range of prices and cuisines, are situated close by. Reputably, the city has more restaurants per head of population than any other city in Australia. Guides to some of the city's restaurants, plus other useful information, can be found at The City of Adelaide website.
---
The Observatory Child Care Centre (F4) is located on campus and can accommodate children of delegates attending the Congress. For further information contact Carrie Johnson, Acting Director on Tel: +61 8 8303 5429 or Fax: +61 8 8303 4404 or email ramoore@camtech.net.au
---
The Exhibition is an integral part of the congress and is an ideal opportunity for companies and organisations to promote their products and services. If you wish to exhibit please telephone the secretariat on +61 8 8364 1005, as soon as possible to reserve a booth.
The Exhibition, located on Level 4 in the Upper Refectory will open on Sunday 10 December at 4:00pm.
Exhibition hours are as follows:

Mon 11 & Tues 12 Dec.

9:00am to 5:30pm

Wed 13 Dec.

9:00am to 1:00pm

Thur 14 & Fri 15 Dec.

9:00am to 5:30pm
---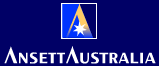 Support the airline which supports your conference.
Ansett Australia has been appointed as the official airline for the
AIP2000 Congress
. Every booking made by delegates, using the Masterfile number, helps to subsidise guest speakers to the
Congress
.
By booking with Ansett Australia, this allows you to access special Conference Airfares, Discounted Airfares, and Holiday Packages. The Ansett Australia Conference airfare offers discounts of up to 45% off the full economy airfare. Unlike most discounted fares, this airfare is FULLY REFUNDABLE, OFFERS FLEXIBILITY AND CHANGES ARE PERMITTED SUBJECT TO SEAT AVAILABILITY.
To access the above airfares, it is imperative that you quote the AIP2000 Congress Masterfile Number MC06699 when calling Ansett Australia on 131300.
International Travel Service
With regard to international delegates Ansett Australia would recommend delegates fly with out international partners, Star Alliance Partners:
| | |
| --- | --- |
| Air New Zealand | Mexicana |
| All Nippon Airways | Scandinavian Airlines |
| Air Canada | Singapore Airlines |
| Austrian Airlines | Thai Airways |
| British Midland | Tyrolean |
| Lauda | United Airlines |
| Lufthansa | Varig |
and Global Reward Partners:
| | |
| --- | --- |
| all of the above | Malaysian Airlines |
| South African Airways | Virgin Atlantic |
---