Research and Publications
Links to SPIRES database, to read the abstract of full text, follow the link from SPIRES to the Los Alamos mirror:au below the paper that you are interested in.
Browse by current personnel
Browse by year of research
Links to research at SPIRES:
2006, 2005, 2004, 2003, 2002, 2001, 2000, 1999, 1998, 1997
(note: some papers may not be found by this search.)
Quantum Chromodynamics Visualisations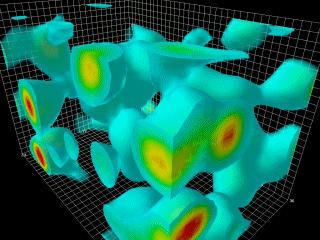 Discover the Origin of Mass
Visit the world of quarks and gluons at the heart of the atom.
Experience Quantum ChromoDynamics (QCD)
See how quarks and gluons interact in CSSM visualizations featured in the 2004 Nobel Prize Lecture. Read the story published by the University of Adelaide's "Adelaidean" on the 17th of December 2004. Visit the world of quarks and gluons at the heat of the atom.
Ponder Strangeness in the Proton
Strange quarks play an important role in the structure of the proton. This artist's rendition provides a modern interpretation of the composition of a proton and how expermentalists probe its structure.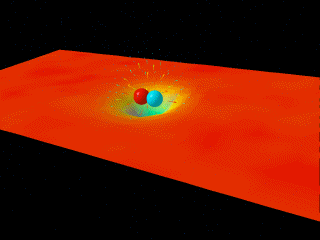 CSSM Posters