Cordwainer smith POV-Ray page
This page shows some scenes based on locations and events from various works by Cordwainer Smith (author of "The Rediscovery of Man", "Norstrillia", "Quest of the Three Worlds", etc). Reference has been made to book covers, and to Corby Waste's Fourth Millenium website, which gives a virtual reality tour of many of the locales mentioned in Smith's works.
One must acknowledge, therefore, a certain amount of artistic influence from others in certain aspects of the images presented here...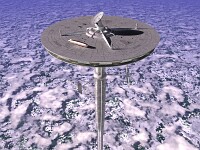 Earthport 1 : a cloudy day over Meeya Meefla- a view from above the landing field at the top of the Earthport tower, some 20,000 metres above sea level. Ships of various types are present, including one fashioned after the airships of ancient Earth (162k)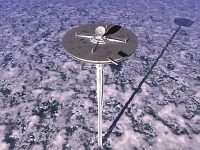 Earthport 2 : a more distant view, from well above the tower (172k)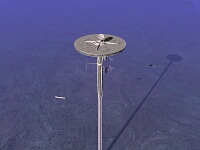 Earthport 3 : much the same view, just on a clear, sunny day...(87k)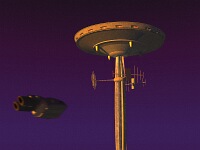 Earthport 4 : a small craft approaches Earthport during the late afternoon (72k)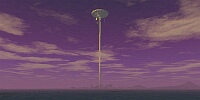 Meeya Meefla : a view from down on the sea, late afternoon (65k)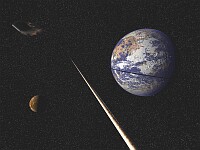 Golden the ship was! : tens of thousands of kilometres away, Go-captain Tedesco's golden ship looms above Raumsog's planet, whilst Lord Lovaduck's ship Anybody, having completed its work, departs the scene...(129k)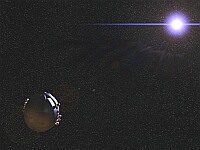 The Game of Rat and Dragon : Pinlighter Underhill's partner, the Persian cat Lady May, attacks a "dragon" with pinlights (119k)
Behemoth : one of the air-whales of Henriada passes by during a dust storm (83k)