CSSM Summer School
Non-perturbative Methods in Quantum Field Theory
11th - 15th February 2013
Quantum Chromodynamics (QCD) is the only example in nature of a fundamentally non-perturbative quantum field theory. Solving QCD will have profound implications on our understanding of the natural world, for example, the quarks and gluons of QCD bind together to form the observed mesons and baryons that constitute more than 98% of the visible mass of the universe.
Understanding the full ramifications of QCD will only be achieved using non-perturbative methods in quantum field theory and this summer school aims to give an overview of current state of the art techniques used to tackle the hardest known problems in nature. For example, Lattice QCD, Dyson-Schwinger Equations and QCD inspired models will be discussed.
A detailed understanding of QCD and the strong nuclear force will only occur via the continued interplay between theory and experiment. Therefore this summer school will highlight several important experimental discoveries of the last few decades that have altered our understanding of hadronic and nuclear structure. For example, the important interplay between experiment and theory will be explored via obserables such as: electromagetic form factors, parton distribution/fragmentation functions, hadronic resonances, nuclear structure and neutron stars.
The summer school lectures will be aimed at PhD students and should give a good overview of contemporary topics in strong interaction physics. Beginning CSSM/COEPP honours students are also strongly encouraged to attend.
Note: At 4:30pm on Monday there will be a reception in the CSSM/COEPP common room (in the annex), all CSSM/COEPP students and staff are welcome to attend.
Lecturers and Lectures
Jonathan Carroll  (CSSM ARC Research Associate)
Ian Cloët   (CSSM ARC Research Associate and Physics Division Theory Group Argonne National Laboratory)
[ lecture 1,
lecture 2,
lecture 3 ]
Hrayr Matevosyan   (COEPP ARC Senior Research Associate)
[ lecture
]
Craig Roberts   (Physics Division Theory Group leader Argonne National Laboratory)
[ lecture 1,
lecture 2,
lecture 3,
lecture 4,
lecture 5 ] (pdf versions)
[ lecture 1,
lecture 2,
lecture 3,
lecture 4,
lecture 5 ] (pptx versions)
Ross Young   (ARC Future Fellow at The University of Adelaide)
[ lecture
]
James Zanotti   (ARC Future Fellow at The University of Adelaide)
[ lecture 1,
lecture 2,
lecture 3 ]
Summer School Schedule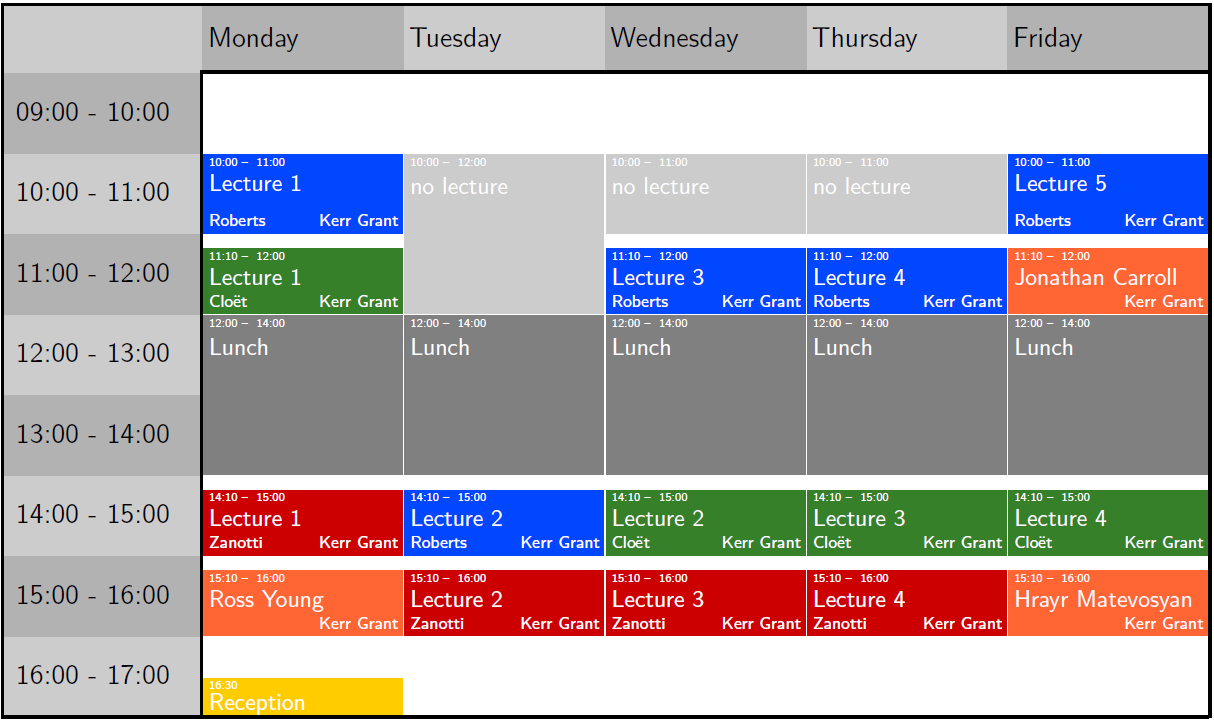 summer school schedule (pdf version)