Workshop on Physics at JHF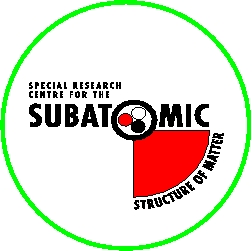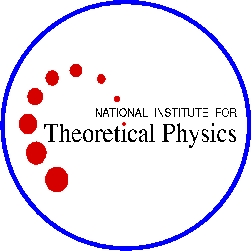 Joint Workshop of the
the

and the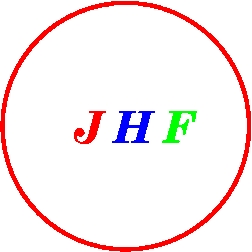 14 - 21 March, 2002

Adelaide-Australia

Main Topics:

Strangeness in Nuclear Matter

Nuclear and Nucleon Structure Functions

Hadronic Properties of Matter

Neutrino Oscillations and Interactions

&nbsp





International Advisory Committee:

T. Hatsuda (U. Tokyo)
K. Imai (Kyoto)
G. Krein (IFT, Sao Paulo)
S. Nagamiya (JHF, Tokai)
M. Oka (Tokyo Inst. Tech.)
A.W. Thomas (CSSM, Adelaide)
H. Toki (RCNP, Osaka)


Local Organizing Committee:

A.W. Thomas (CSSM, Adelaide)
A. Kizilersu (CSSM, Adelaide)
V. Guzey (CSSM, Adelaide)
I.R. Afnan (Flinders, Adelaide)


Invited Speakers:
I.Afnan (Flinders)
C. Allton (Swansea)
W. Bentz (Tokai)
I. Bojak (CSSM)
M. Burkardt (New Mexico State)
F.-G. Cao(Massey)
V. Guzey (CSSM)
J. Haidenbauer (Juelich)
T. Hatsuda (Tokyo)
A. Hosaka (RCNP)
F. Khanna (Alberta)
G. Krein (Sao-Paulo)
T. Kunihiro (Kyoto)
D. Leinweber (CSSM)
O. Leitner (CSSM)
B. McKellar (Melbourne)
H. Mineo (Tokyo)
T. Nagae (KEK)
M. Oettel (CSSM)
T. Oka (Tokyo)
S. Sawada (KEK)
A. Thomas (CSSM)
H. Toki (RCNP)
S. Tovey (Melbourne)
K. Tsushima (Georgia)
R. Volkas (Melbourne)
A.G. Williams (CSSM)
R. Young (CSSM)
J. Zanotti (CSSM)
An up to date list of registered participants may be viewed here .


General Information:
The Centre for the Subatomic Structure of Matter (CSSM) and the National Institute for Theoretical Physics (NITP) at Adelaide University together with the Japan Hadron Facility are holding a Workshop on Physics at JHF. The workshop has been scheduled from Thursday the 14th of March through to Thursday the 21st of March, 2002. The details of how to register for this workshop are given at the end of this page.
Aim:
The aim of the workshop is to bring experimentalists and theorists together in order to discuss the scientific possibilities of the physics program proposed at Japan Hadron Facility (JHF). Since the JHF project is at its very beginning, it is clearly very important to define what physics is interesting and feasible to study at JHF, both from the theoretical and experimental point of view. It is hoped that formal presentations as well informal discussions will help to reach this goal.
Program:
The final program is available here . .
Pictures:
The conference dinner pictures can be viewed here . .
Proceedings:

Travel Planning:
Most international attendees will require a valid visa and current passport to enter Australia. A currency converter is available . If you are planning to attend you should ensure that your air travel reservations are made *well in advance* of your travel!
Location:
The National Institute for Theoretical Physics (NITP) and the Special Research Center for the Subatomic Structure of Matter (CSSM) arelocated at:
CSSM Level 4
10 Pulteney Street
Adelaide SA, 5000, Australia

CLICK HERE to see map (CSSM is at Q-12)
Registration Fee:
A$300 (approx US$156 by February 10, 2002).
This includes all costs for the reception, continuous brewed coffee (and cookies etc. at coffee breaks), the workshop dinner and a copy of the proceedings.
Available Support:
Applications for support should be sent to the Local Organizers by e-mail.
Financial support for attendance at the workshop is very limited and in the first instance will be available on a competitive basis to junior attendees with limited access to support from other sources. Registration waivers will not be given since it is the registration that is funding the venue, food, dinner, proceedings etc. Any support that is offered will be in the form of contributions to travel and/or accommodation costs only.
Accomodation:
The CSSM has access to special accommodations for visitors to the University of Adelaide which are not available to the general public. To book these accommodations of exceptional value, contact the CSSM by e-mailing Sharon Johnson or Sara Boffa at JJHF2002@physics.adelaide.edu.au.

The residential wing of the Royal Adelaide Hospital acts partly as a nurses' home. It is a five minute walk from the CSSM. Situated on Frome Road, adjacent to the University and to the rear of the Royal Adelaide Hospital site, these rooms provide views over the Botanic Gardens. Rooms with an ensuite bathroom (shower and toilet), linen, divan and television are A$60.50 for a single person per night or A$65.50 for two persons per night. Single rooms with shared facilities are available for only A$17.60 per night (full-time students - A$13.20). There are also self contained apartments located in the city for about A$130, for booking contact Sharon or Sara.

Kathleen Lumley College is a Postgraduate College associated with the University of Adelaide. Situated across the park lands at 51 Finniss St. in North Adelaide, it is 1.4 km from the CSSM. Rooms including an ensuite bathroom (shower and toilet ), linen, and tea making facilities, as well as dinner and breakfast served Monday through Saturday are available for single occupancy at A$48 per night. Self-contained flats for one or two persons with a private kitchen as well as dinner and breakfast Monday through Saturday are available at A$58 per flat. A single room with shared facilities is available for only A$24/night which still includes breakfast & dinner. Laundry facilities are also available on site.

If you are traveling with family, suites near the beach at Glenelg can provide a very enjoyable stay at an economical price. A 30 minute tram ride into the city and a 15 minute walk into the CSSM provides a 45 minute commute from the beach to the Centre. A one bedroom apartment at La Mancha (on the beachfront) is approximately A$85 per night, while a two bedroom apartment at Marco Polo (a half block short walking distance to beach) is A$100 per night. For more information, just ask Sharon or Sara to look into booking accommodations at the beach in Glenelg.

If you would rather book your own accommodation, an incomplete list of Hotels/Motels/Flats etc. available in Adelaide may be found at Accommodation in Adelaide. We have also prepared a page providing other useful Local Information for Visitors to Adelaide.

How to Register:
The registration fee can be paid upon arrival at the CSSM in Adelaide. To express interest in attending the workshop and to be included in the mailing list for any future notices regarding it please either:

fill out the electronic registration form below and submit it (the preferred option), or
mail, fax or e-mail the relevant information (including the title of the workshop, your name, address, contact information, accommodation needs, talk title and abstract, etc.) to Sharon Johnson at the address below:

Mrs. Sharon Johnson or Mrs. Sara Boffa
CSSM
University of Adelaide
Adelaide, SA 5005, Australia

Telephone: +61-8-83133533; Fax: +61-8-83133551
E-mail: JJHF2002@physics.adelaide.edu.au

Registration Form:
---
To the Center for the Subatomic Structure of Matter (CSSM) Home Page
To the Japan Hadron Facilty (JHF) Home Page
To the National Institute for Theoretical Physics (NITP) Home Page
---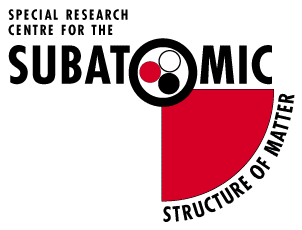 Page Created: 22 January, 2002

Last Modified: 14 March, 2002
by A. Kizilersu and V. Guzey
CSSM, University of Adelaide, Australia 5005
Telephone: +61-8-83133549
Fax: +61-8-83133551