The ARC Special Research Centre for the Subatomic Structure of Matter

Enquiries: +61 8 8313 3533

Location: Level 1, Physics Building, University of Adelaide, Adelaide, SA

Mailing Address: CSSM, Rm. 126, Lvl 1 Physics Building, University of Adelaide, SA 5005, Australia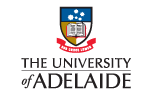 Lattice QCD Visualizations from the CSSM
Observe the evolution of centre clusters in local Polyakov loops as a function of HMC evolution time. As the temperature of the system passes through the critical temperature of deconfinement, the manner in which the domains change is revealed.

Explore our collection of QCD vacuum structure animations produced via numerical simulations of QCD on massively parallel supercomputers.

Discover the effects of removing the centre vortices from QCD vacuum gauge field configurations. The animations illustrate the evolution of the gauge-field topological charge density under cooling on configurations with centre vortices removed.

Take a tour of the world of quarks and gluons. Follow this tour of the QCD Vacuum designed for students and discover the origin of the mass of the proton.